Solution Summary
We are Australia's Leading provider of Personalised Cloud & Managed Services. We will be there for you every step of the way, helping you harness the best technology of today to help secure you, your business and your people tomorrow. We achieve this through our unique P4 model:
1. CLOUD PERSONALISATION
– We provide scalable multicloud solutions with broad spectrum options tailored to your specific industry, business and personal needs together with our unique Private Cloud solutions leveraging IBM.
2. PERSONALISED EXPERIENCE
– Choose how you work with us. Personalise your user support and build a long term trusted relationship with your single point of contact who becomes intimate with the needs of your business and your people and who you can reach directly.
3. PERSONAL SECURITY
– Secure your future with the best personal protection for today. We offer a range of tailored security solutions following Essential 8 guidelines right up to ISO27001. Security, your way, for your business, protecting you today from tomorrow's emerging threats.
4. PERSONAL MATURITY PLAN
– Determine where you and your business sit on our Personal Cloud Maturity Model . We take the time to understand your business and have empathy for your long-term vision and will build a technology platform to get you there, one maturity level at a time.
We provide more than Personalised Cloud, Cyber Security and Managed Services, we provide a total Personalised IT Experience. Now IT's Personal.
---
Who to Contact / Get a Quote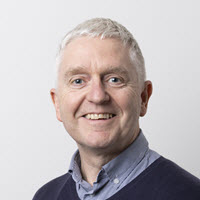 Geoff Boreland
CEO
Evolution Systems
---
StrategyMix Buyer Group Ratings
Signin to rate this solution
---
Customer Reviews
LexisNexis LexisNexis is a leading global provider of legal, regulatory and business information and analytics that help professional customers make more informed decisions, increase productivity and serve their clients better. They help collect evidence against war criminals and provide tools to combat human trafficking. They endeavour to advance the rule of law across the world. LexisNexis serves customers in more than 175 countries with 10,000 employees worldwide, is part of RELX Group, a global provider of information and analytics for professional and business customers across industries. LexisNexis approach Evolution Systems to assist with some IT health checks as they were "flying blind" largely unaware of whether they were running out of disk space or if an alert needed a response. Evolution immediately triaged the urgent tasks and enabled them to regain visibility and control of their IT environment. Having "put out the fires" Evolution Systems helped LexisNexis realise their was a transformative opportunity to move away from legacy on-premise infrastructure upgrades and embrace the cloud. Evolution assisted local management to build an innovative, out-of-the-box business plan to convince UK head offer to migrate data and workloads to the IBM Cloud platform. Evolution Systems deployed their "Personalised IT" model by aligning human-centric needs, company culture, single-point of contact as well as the right hybrid cloud model to create a perfectly optimised, personalised Cloud solution that has given back control of the business, provided visibility and enabled digital transformation to sustain ongoing growth to local operations previously not achievable with legacy on-premise IT.
Fletcher Building John Ouin Core Infrastructure Manager ANZ Fletcher Building "A terrific partner because of their skills and experience that we don't necessarily have in-house and we've used them for support and for large project limitations and migrations."
RELX Peter Madden Head of IT Operations RELX "They've got a great bunch of guys that you work with, very accommodating and you know, always giving advice, [..] coaxing and coaching us."
---